Social Media Services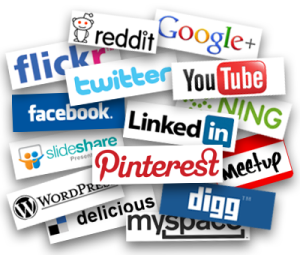 Social Media is nearly impossible for most medium and small-sized companies.  First, it's really complicated and second, most can't keep up with the demands that are required to generate any real results.  As a company, our mission is to help our clients build up their social media so that their efforts are worthwhile.  Trying to tweet or post to a small customer base is pointless but you have to start somewhere.   There are 3 major components to social media which include:
Purpose
Content
Engagement
Purpose.  With so many options like Facebook, Twitter, Linkedin, Youtube, Google+, Google, Pinterest, Instagram, Houzz, etc. it's all starts with your intended purpose.  To us, "purpose" is finding out why we want to engage in social media.  You need to have a reason and an ultimate goal.  Without purpose, there's no great reason to engage in social media.  Of course it matters, what business your in because some business work well certain social media platforms better than others but it really starts with what your goals are for your social media program.  Do you want more likes, more follower, more engagement, more sales.  Our job is to help you determine what your ultimate goals should be and how to reach those goals.  At that point we can deliver a program with purpose – designed to help grow your social medial program to generate more customers, leads, and sales.
Content.  Once we've established your social media purpose and goals we will help you develop content.  Content can come in many forms – photos, images, video, articles, etc.  There are many ways to get there and our job is help you do it right.  Original content and passion about your business really help.  We will find creative and affordable ways of helping you develop content that your intended customer base will find engaging.  There is definitely a "chicken and egg" theory when it comes to content vs. followers – meaning that you need to have a decent social media setting prior to getting new followers but if there's no interesting content – people will not follow anyway.   We specialize in helping to create and manage affordable social media programs so you can focus on running your business.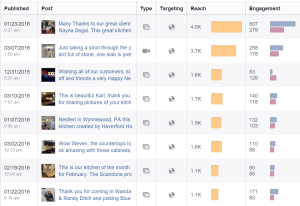 Engagement.  So we have a purpose and great content now we need to get our customers to engage with our social sites, website or with the company directly.  Engagement refers to how your customers "connect" with you socially.  If they read a posted article, or learned about an event that you sponsored and reply, post or visit the site to learn more – these are forms of engagement.  Without engagement your social media program is not worth as much.  Over time as your customer base and social media base grow there are many opportunities to use social media for connecting with your customers.  We can set up events, promotions, special sales, sweepstakes, coupons, etc. all designed to drive engagement.  We can help you creating affordable and engaging social media programs designed to increase sales.