Search Engine Optimization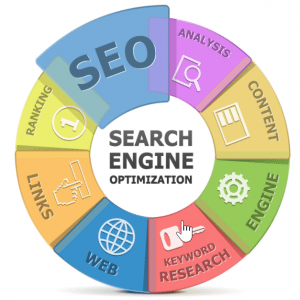 What is SEO? S.E.O. is an acronym for Search Engine Optimization which is the process of making your website and your web pages appear higher on Google's search results pages. Our goal is always to appear on the first page of Google for the particular keywords for which we are trying to rank. For example: if your business was a flower shop in Dallas Texas it would be great if your business appeared on the first page in google search under "flower shop near me", "flower shop".  These are keywords or search terms – what consumers use when they are searching on Google on their desktops and mobile devices. Of course, the first thing you see when searching are your competitor's ads. Ads are paid and will always appear above the natural search.
Google Maps & Listings.  The next thing you will see is Google Maps or the local pack – which is a section for showing you the closest Countertop Fabricators based on your general location. We can get you higher rankings for Google Maps in our local optimization service.
Natural Results or Organic Listings.  The final set of results are called natural optimization or SEO results. These are the websites and pages that Google indexed that they feel are the most relevant to your search terms. This is where SEO occurs. Our goal with SEO is to get you to the top of the natural results on the 1st pages of Google based on specific keywords that will drive the most qualified customers to your website.
How Does SEO work? Essentially, Google uses algorithms to index every website. They look identifiers that show the most relevant results the search terms used. It makes sense and is very logical. Google tries its hardest to find the most relevant results otherwise, you would stop using Google as a resource. Google then scours the web looking for the most relevant, legitimate and popular (yes, popular) websites and pages that will help the searcher find what they are looking for. Google uses the algorithm to find "clues" that would give the searcher the best results. Those clues include a code on the page, keywords, and phrases on the page, links from other sites to that page, etc. etc. Via SEO tactics we can add the clues that Google is looking for to increase your chances of moving higher on the page.
SEO Options. There are no exact plans when it comes to SEO. We take a unique approach to each countertop fabricator client. There are local factors, regional factors and content options in every case so each project is semi-custom.
Keyword & Organic Rankings – Tiered Link Building Structure
For Local Businesses & Local Rankings – NAP Citations & Links
For High Powered Rankings – High DA Permanent Homepage Links
For Building Press & Link Diversity – Press Release & Distribution
Content Marketing – White-Hat, Authority Guest Post Links
Fully Optimize Your OnPage SEO
Keyword Research and OnPage SEO Service For More Traffic
For every project we do, we include setting up SEO on your WordPress site and setting up google search console, and your sitemap.
Site Audit
Category and Subcategory Meta Title optimization
Category and subcategory and Subcategory copy optimization
Top 100 Product Title Re-writes.
WordPress SEO Plugin Setting Modifications
Sitemap Optimization
Google Search Console Setting Changes
301 Redirects
Canonical URL Creation
Disavow of bad urls (link farm and harmful sites)
No follow of bad urls
Choose our keywords targets. Based on the particulars of your business we research and select the most critical keywords. We would do research at the specific keyword level to select the target keywords. All category and subcategory pages would get changes to reflect this change (meta title, H1 Title, copy).
Linking and Link Profiles. We need to build out our link profile specifically targeting these new target keywords. For this exercise we select the 3 subcategories we want to target from an SEO standpoint. We would build out blog articles around these keywords. We would also then do a fairly elaborate link building exercise which would include building out articles on respected platforms that would link to a combination of the targeted category/subcategory pages as well as the blog articles we created. 4 Of these articles would be built a month. To give these new articles as much link value as possible we will drive properties to it, as well as 100+ social bookmarks and profile links. It is technical but the gist is that we are creating and driving qualified traffic to key pages on your website and blog for very specific keywords.
Let the Traffic Roll In. Once we've done the aforementioned, it's time to watch the results come in. We will provide detailed reports of before an after so you can the fruits of our labor. The good news is that you will see traffic grow as well as conversions, which is what the goal of our program. SEO may seem complicated, it's because it is, but we are very good at what we do. We understand the countertop business and can help you if you are ready for SEO. Please call us for a free evaluation of your business.
Find out if your current site has good SEO using our free report.